Methodism in Altofts
A Brief History of Methodism in Altofts
In 1809 a little group of Methodists worshipped in a small meeting place believed to be the granary at Greystones, just across the road from the existing site of Altofts Methodist Church. In 1833 they built Upper Altofts Wesleyan Chapel. It was enlarged and renovated in 1865 and refurbished after a fire in 1886. In 1929 a Sunday School was built.
When the Yorkshire - Lancashire Railway came through Altofts in 1840, followed by the establishment of the coal mines in 1851, the population of the village increased. In 1871 Lock Lane Primitive Methodist Chapel was built.
Methodists in Lower Altofts worshipped in a wooden building erected in 1875, and in 1892 built Lower Altofts Wesleyan Chapel.
In 1989 the three Chapels joined in Christian unity and together they built...Altofts Methodist Church. Opened Easter Eve, April 14th 1990.

© Mary Carrington 1990
The Building of a Church
by Kirsty O'Shaughnessy

Kirsty took photographs and produced a booklet chronicling the building of Altofts Methodist Church, which opened on 14 April 1990. Click on the image (opposite) to view or download a PDF version.
Upper Altofts Methodist Church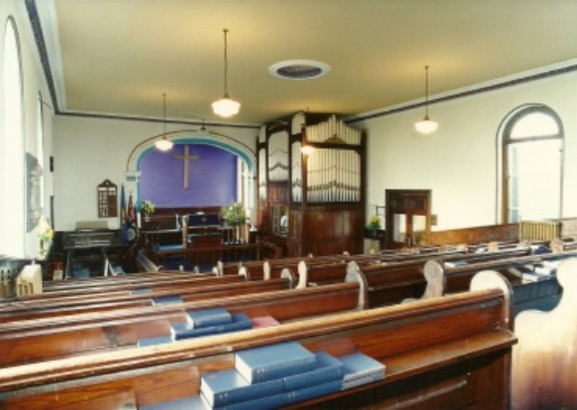 Upper Altofts Wesleyan Methodist Chapel stood on the site of Altofts Methodist Church until 1989. Stephen Furness's booklet contains information on the building of the chapel, taken from the West Yorkshire Archive. Click in the image to view or download a PDF version.
Altofts Methodist at 25

A slideshow of images that was put together for the 25th anniversary celebrations. Look at the 'notes' to see who is in the photographs.

Click on the image to download in pptx format.

Click here to download in PDF format.