Evangelism and Spirituality Group
The Circuit Evangelism and Spirituality group will next meet on
Wednesday 10 April 2019
at Trinity Wakefield at 7.30pm.
It will be helpful if each church could send a representative as we will be discussing the Day of Prayer in June and Prayer Walks in September.


A circuit study of the book of Acts has been organised by Rev Jacob Kaiga for early 2019
Details are below:
CIRCUIT BIBLE STUDY 5
Our fifth Bible study is based in the book of Acts. Acts is the most interesting book in the Bible mainly because it brings to life the life of the early Church. It gives us a perfect model of how the Church should operate in the world. Acts provides the bridge for the writings of the New Testament. It comes between the Gospels account and the letters of Paul and others. Acts joins what Jesus began to do and teach as narrated in the Gospels with what He continued to do through the Apostles and the establishment of the Church. Historically, Acts recounts the first 30 years of the Church and shows how the Holy Spirit worked amazingly through the Church.
Acts is both an inspired and inspirational book. Inspired because it is the word of God and inspirational in that it gives classic examples of faith amidst severe trials. As one writer said, "As a result of the coming of the Holy Spirit as told in Acts, lies the awesome privilege for us today which was described 2000 years ago by Dr Luke in the book of Acts". Without Acts, the 4 Gospels would have been left without a satisfying answer to the question; what happened next?
Let us read this Book together and be inspired as we think about Re-shaping our Circuit
We will start our study on February 1st and finish on 28th.
There are 28 Chapters in Acts, exactly one chapter per day if possible. It would be good for each of us to know that we are all reading the same chapter each day.
The following questions can help as guide lines:
Is there a particular verse or verses that really spoke to you in your study?
Which chapter spoke to you most?
What have you generally learnt from your study?
What have you learnt from Acts which can enhance your spiritual growth?
To help you in your study and in our sharing during feedbacks, you may wish to take a note book and write some relevant things that you have learnt.
You can also take a coloured pen and underline the verses that speak to you and may refer to them later.
The following is the timetable for us to meet for feedback in our proposed Clusters and share what we have learnt, thereby helping one another as we endeavour to continue growing Spiritually both as individuals and corporately.
Tuesday March 5th at 7.30pm – The Kings way
Wednesday March 6th at 7.30pm – Trinity Wakefield
Friday March 8th at 7.30pm – Micklegate
Tuesday March 12th at 7.30pm – West Wakefield
Wednesday March 13th at 7.00pm - Trinity Castleford
Thank you everyone and may God bless and enlighten us as we study His word in the New Year 2019.
If you have any queries please ring Jacob on 01977702673 or your minister.
Jacob Kaiga
__________________________________________________________________________________
This group has organised a prayer walk around the 31 churches for Autumn of 2018. The purpose of the prayer walks is to link every Church in the circuit spiritually by prayer with a time or prayer at each church.
The detailed timetable is as follows- anyone is encouraged to join for all or part of any walk on any day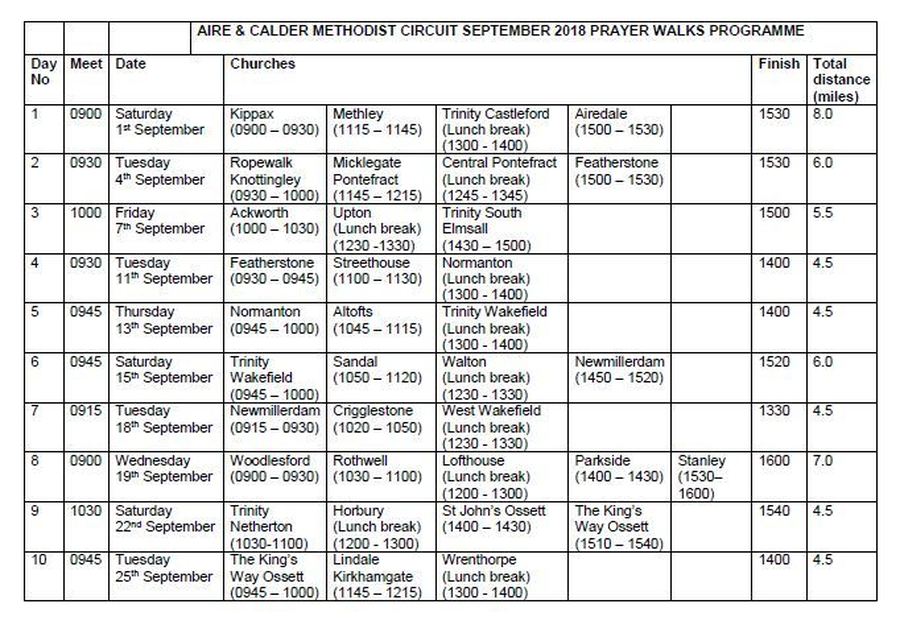 last update NAS 9/1/19...